In this post, we will see TRACES account in Saral TDS. Different options available in Saral TDS to integrate the details between Saral TDS and TRACES account of the user.
To begin with, TRACES Account option in Saral TDS will help you to place your request to TRACES Website for various options. As a result, this will auto fetch the required details form the software to the website and ease the process of manual entry by the user. This option can also be used for downloading the files from TRACES website for which the request is already placed.
Firstly, To place the requests in TRACES through Saral TDS, go to TRACES option in the menu bar;

In the display box, click on the dropdown against Request for option and select the required option.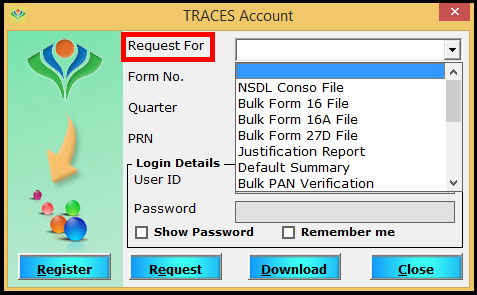 In the second place, select the Form and Quarter; enter the PNR (if not auto fetched). Enter the TRACES website credential (User id and Password) and click on Request.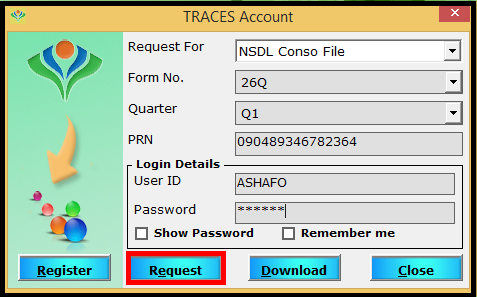 Note: 
PNR will be auto fetched if the details are entered for the said form and quarter in Acknowledgment Screen.
If you have not yet registered with TRACES i.e. you are a new TDS Assessee, and then click on Register for continuing to the registration page of TRACES.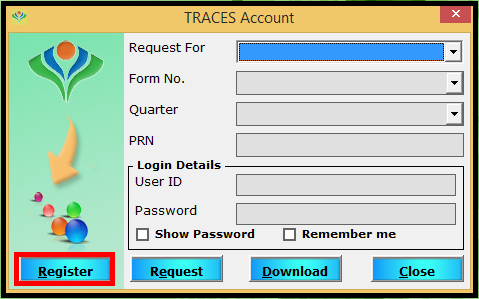 Note: 
You should have filed at least one TDS return for registering with TRACES. The details required for registration will be auto fetched from Saral TDS and entered in TRACES.
Similarly, you can download the requested file (if available in TRACES)  to the system on click of Download button.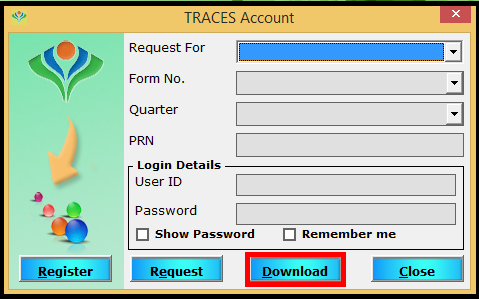 Also now, we will see the different options available for Request/Download;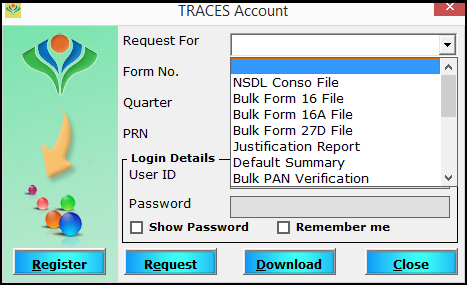 NSDL Conso File: You can Request/Download NSDL Conso file (.tds file or consolidated statement) from TRACES.
Bulk Form16 file: To Request/Download Form 16 (Salary TDS Certificate) from TRACES.
Bulk-Form-16A file: To Request/Download Form 16A (Non-Salary TDS Certificate) from TRACES.
Bulk Form 27D file: To Request/Download Form 27D (TCS Certificate) from TRACES.
Justification Report: To Request/Download Justification Report (Default Report) from TRACES.
Default Summary: To view Default Summary of any Form-Quarter at the TRACES portal.
Bulk PAN Verification: To verify multiple PAN in one click through TRACES Database.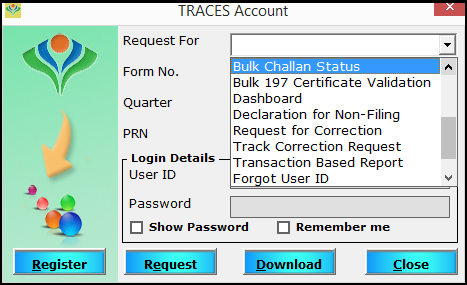 Bulk Challan Verification: To verify more than one Challan in one click through TRACES Database.
Bulk-197 certificate Validations: In the same way, To verify multiple 197 certificates and authenticate the same, through TRACES Database
DashBoard: To view the Dashboard of TRACES portal.
Declaration for Non-filing: To submit a declaration of Non-filing of TDS return for a particular Form-Quarter.
Request for correction:  Likewise  to place a request for doing online correction at TRACES Portal
Track Correction request: Also to track the status of online correction request placed.
Transaction-Based Report: You can Request/Download Transaction based Report (Report of NRI Deductee whose PAN is not reported in Form 27Q) from TRACES.
Forgot User Id: You can retrieve User-id of TRACES Login if the User-id is forgotten.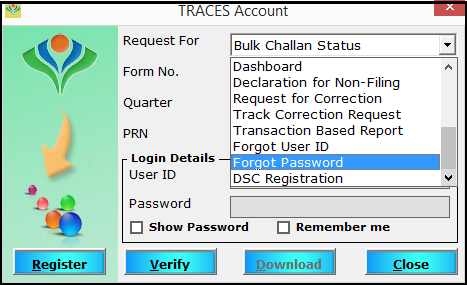 Forgot Password: You can retrieve Password of TRACES Login if the password is forgotten.
DSC Registration: To register a digital signature of authorized signatory at TRACES portal.
In conclusion, these are the different options available in Saral TDS for data exchange with TRACES account.
So, this ends the post on TRACES account in SARAL TDS. Let us know your opinion by commenting below.
You can learn about TRACES for TDS in general: