Hello. In this post, we will see the Form 15G/15H return filing in Saral TDS.
Form 15G/15H is a self-declaration given to the Deductor by the taxpayer for non-deduction of TDS on the income accrued.
To know more, read below:
https://www.saraltds.com/blogs/form-15g-and-form-15h/
The Deductor collecting Form 15G/15H has to update the details through the return filing process, every quarter.
The process of such return filing is explained below.
To enable the module of Form 15G/15H in Saral TDS, go to General Settings under Settings of Master menu.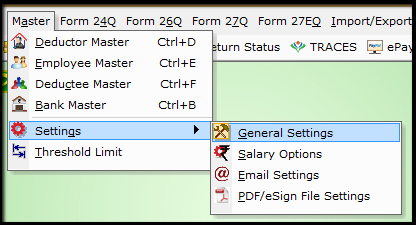 In the General Settings window, enable the option Enable 15G/15H, save and exit the setting.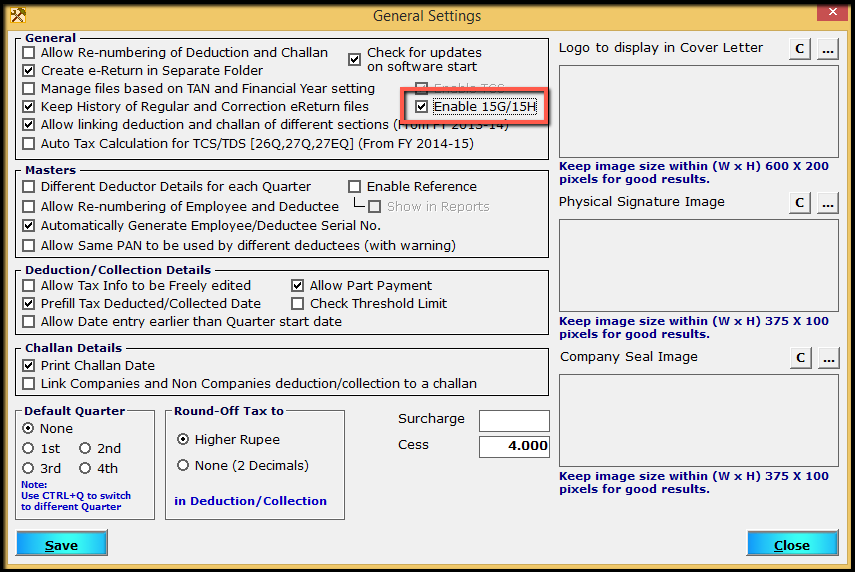 After enabling the option, go to Deductee Master under Master menu and add the deductee details.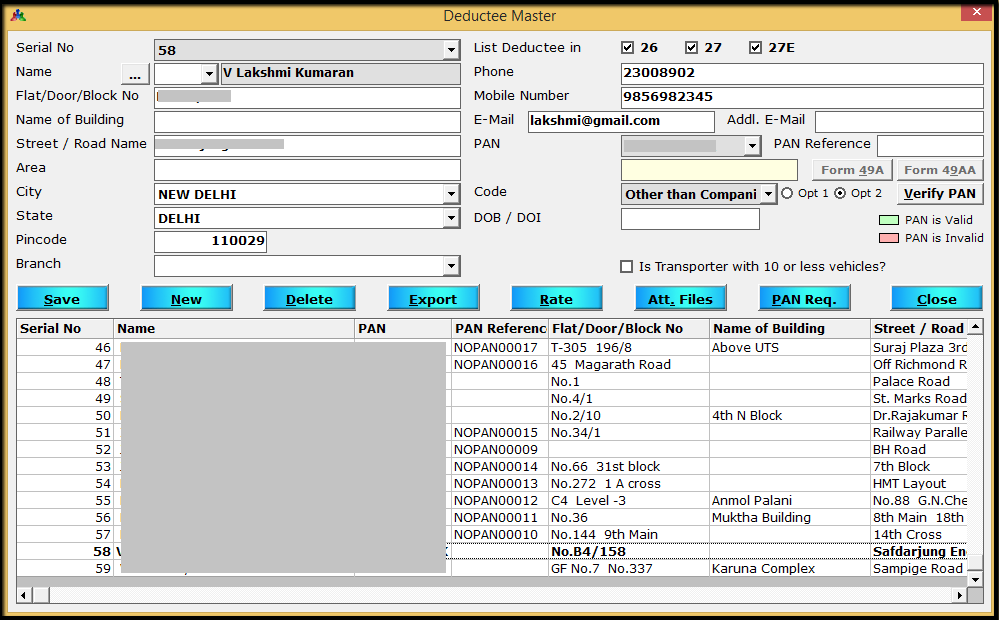 Note: Address and Contact details are mandatory for deductees if the deductee is considered under Form 15G/15H return filing.
The menu Form 15G/ 15H will be enabled. Under the menu, select the required Quarter of filing. If Form 15G is to be filed, select 15G Details and if Form 15H is to be filed, select 15H Details.

We will see Form 15G details entry for Quarter
In the details entry window, enter the required details of the deductee. The deductee record will be selected form the dropdown.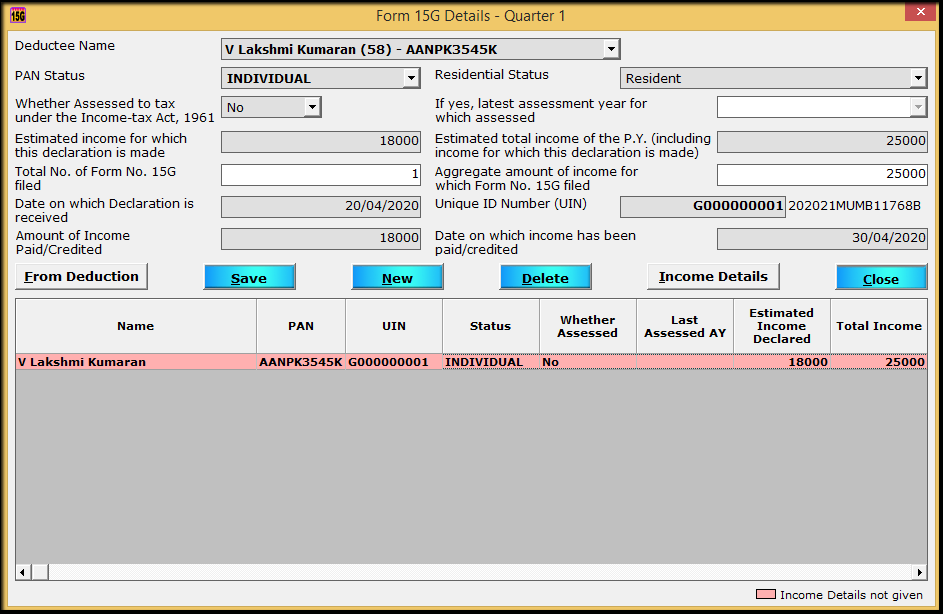 Note: If the deduction details is already entered Form 26, then click on From Deduction. The details available in Form 26Q like amount of payment, UIN will be ported to Form 15G. The other required details have to be entered and saved.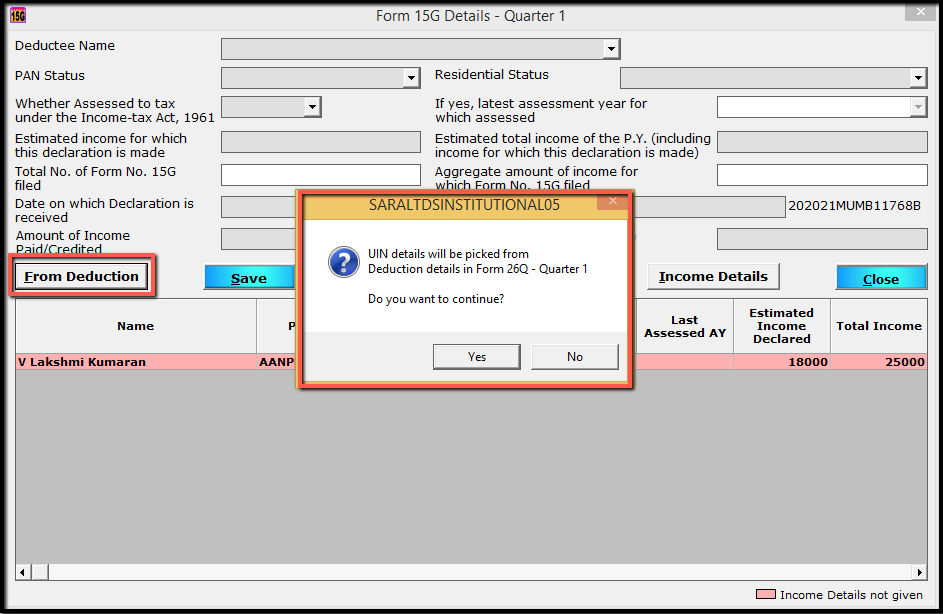 On entering the details, click on Income Details to enter the details of income for which the declaration is made.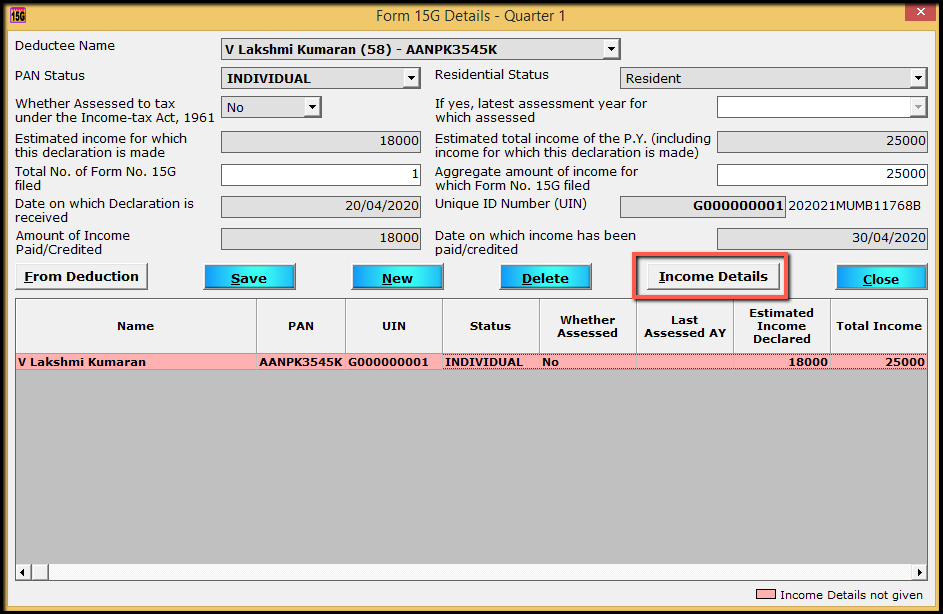 In the window, enter the details. If the declaration is made for multiple incomes, then enter all the details here.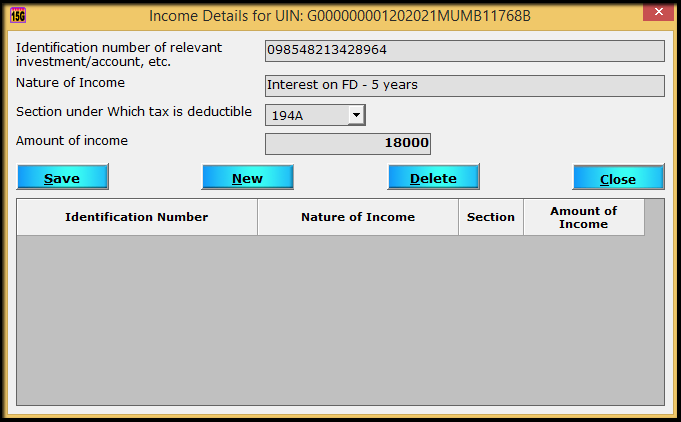 Likewise, enter all the details applicable for the quarter under Form 15G.
After the entry, go to 15G eReturn under the selected quarter.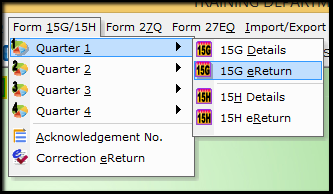 Here, click on e-Return and the details will be validated against the department schema. If all the validations are cleared, the validation success message will be displayed and the XML file is be made available.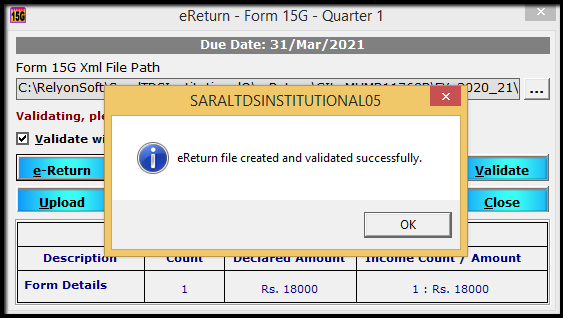 Note: If any error is identified, the list of errors will be displayed. Rectify the error and revalidate.
To upload the return to ITD website, click on Upload and enter the login credentials for ITD portal.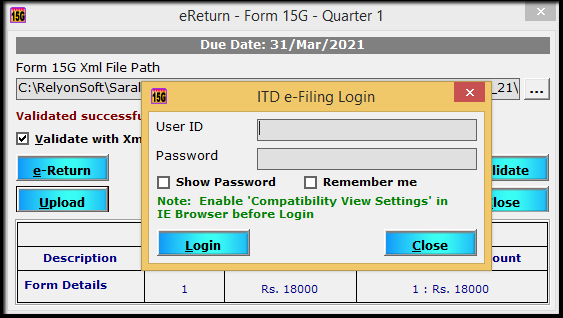 The DSC Management Utility for ITD will be displayed, where the Zip file and DSC of the authorized signatory have to be uploaded and the signature file has to be generated.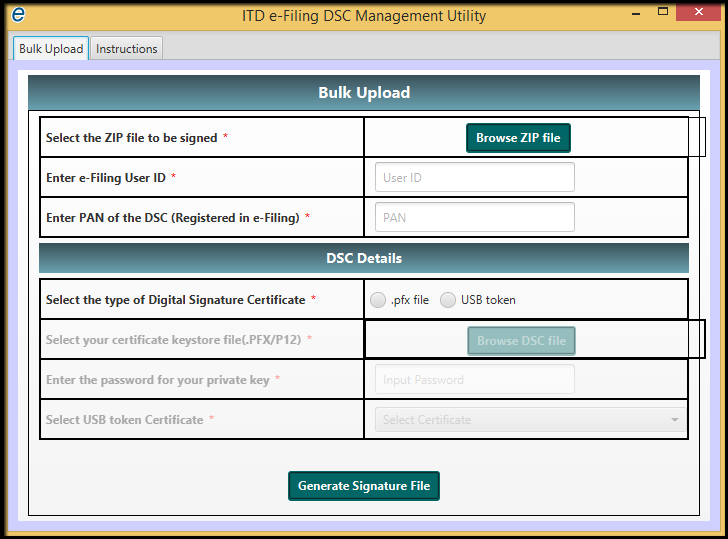 After the signature file generation, the return file will be uploaded to the website where the return has to be submitted. On successful submission, the acknowledgment number for filing will be provided. Enter this acknowledgment number in Saral TDS under Acknowledgment No. of Form 15G/15H menu.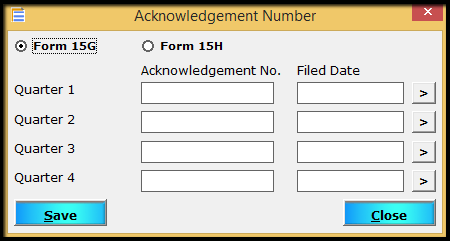 Similarly, 15H return filing also has to be processed.
This completes Form 15G/15H return filing in Saral TDS.